What follows is an essay I wrote for Richard Powers & The Modern Fantastic, a beautiful booklet published for the World Fantasy Convention held last November in Saratoga Springs, NY. I had been asked to be on a panel about Powers (our ScienSonic cover artist) at that event, and sadly had to decline because of a European tour. Instead I was represented at the convention by a video interview prepared by Rick Lieder, by 21 paintings contributed from my collection to their special Powers exhibit... and by this essay (presented here in its original, unedited form).
Incidentally I was very sad to learn this week of the death of David Hartwell, who was present at the convention and is referenced in this article.
Posted: January 26, 2016
---
Unearthly Visions
I shuffled my feet uncertainly, glanced down at the single bill clenched in my hand. A whole dollar! A lot of money for a 10-year-old kid in 1969. I looked again at the cardboard carton lying open in the sunlit New Hampshire field. Must be 20 books in there, maybe more… all early- to mid-1950s paperbacks (already old, even then). Everything about them: the look, the feel – even the smell! – held me fascinated. I felt pulled, drawn in, as if caught in a tractor beam. Well, my grandfather had given me this money when we'd first arrived at the flea market; said it was for me to spend on whatever I wanted. I wanted these books!
Hesitation… then my hand thrust out, the deal was done, and I carted away my prize.
That box proved a trove of mind-opening wonders, and it changed my life in a profound way. For the rest of that summer I would sit outdoors any chance I had, enthralled, turning the brittle pages, drinking in the feelings of awe and mystery they contained. And those covers! They were otherworldly visions, little windows into unimagined realities that it seemed I could taste, feel and hear as much as see. They called out to me… and in I went.
That young experience was my first exposure to the art of Richard Powers, and it colored everything that came later in life. Doors got opened that never quite closed again. And years later, as I was drawn further and further into the world of music, I found that this early experience had somehow left me better prepared to accept the sound of the unexpected, the unfamiliar... the unforeheard. Creative music became my passion, and Powers proved as much an influence in that realm as Louis Armstrong, Duke Ellington, Sun Ra or any of my musical heroes. Like them, he created a world -- inhabited it -- and then invited others to come in and make themselves comfortable.
In the late 1990s, after I had been active as a musician in New York for about 13 years, my future wife said to me, "You keep talking about this Richard Powers, and how important he is for you. Why don't we try to find out about him, see if he's around somewhere?" I had no idea how to go about that, and said so. But she had a resource I did not: a computer, and knowledge of this new thing called the Internet. A few clicks later, we had found David Hartwell's online remembrance of Powers, and our unfortunate answer: The man had recently passed. But Powers' son Tair lived nearby, Hartwell told us, and would probably be happy to speak with me.
Tair turned out to be a great guy, very friendly and extremely enthusiastic about his father's work. We met at a diner, and he brought along a big portfolio of articles, reviews, cover proofs, transparencies, tearsheets, snapshots… an eye-popping abundance of treasures. That began a friendship which lasted until Tair's death about eight years later. We hung out, came to each other's barbecues, and talked endlessly about his dad. I was able to obtain my first original paintings from him, and he came to a number of my New York-area concerts. One of my most treasured compliments came from Tair: "You know, Dad would've loved your music!"
Eventually, after years of sideman work and some 200 albums of mostly straight-ahead jazz, I needed a new outlet for the more far-reaching music that I dreamed of making, but had little chance of getting released elsewhere. I wanted complete artistic control over every aspect of the music, as well as the look and feel of the packaging and the website. I wanted to create a world… and the art of Richard Powers needed to be a big part of that world. So in 2010, ScienSonic Laboratories was born, and I was honored and proud when the new enterprise was granted an exclusive license from the Estate of Richard Powers for the use of Powers art on all our musical projects.
With the newly-formed company, and a beautiful new recording facility (laboratory!) at my disposal, I could finally create the music I dreamed of, and unite it with some of the incredible paintings which had helped inspire it in the first place. Not only that, but some great unpublished paintings -- from my collection and elsewhere -- could now be seen by the world for the very first time, as eye-catching album covers.
One of my regrets is that Tair Powers did not live to see the results. As of this writing, ScienSonic has released eight CDs of highly adventurous music, all with astonishing Powers covers (a couple of these can be seen below -- along with a photo of Powers at work on the actual painting used for Záhadná!), and many more are already in the pipeline. The distinctive look of ScienSonic – including all areas of the website – has been based entirely on Powers' work. Even the clickable icons that navigate to the various webpages are discrete, abstract "objects" taken from Powers paintings. When making a purchase, the customer adds an item, not to a shopping cart, but to a "transporter" – represented by another Powers element.
Our efforts have not gone unnoticed. We've gotten some great reviews, made it into some "Best-of-Year" lists. Several of our releases have won "Best Album Artwork" nods from NYC Jazz Record, and we've been written up in Sci Fi Magazine. We have partnered with the Space Foundation, which bestows on our CDs their "Certified Space Imagination Product" seal (we donate a portion of our proceeds to the Space Foundation fund). We've launched our Laboratory Membership program, and our Sound-of-the-Month Club, which enable our adventurous listeners to really become a part of the ScienSonic world instead of just buying a CD.
But the most important thing is the music itself, our Worlds of Tomorrow Through Sound...  music which would never have existed if that 10-year-old kid hadn't made his impulsive purchase, and lugged that heavy carton of old books back through a New Hampshire flea market to his grandfather's car.
Best buck I ever spent!
© 2015 Scott Robinson
Investigative Head of Sonic Research, ScienSonic Laboratories
Photo of Richard Powers © Rick Lieder • Dreampool.com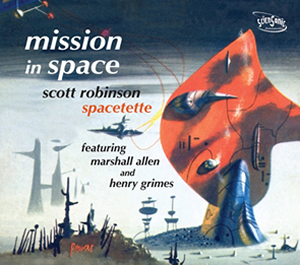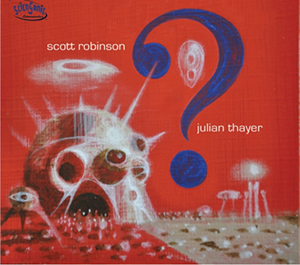 ?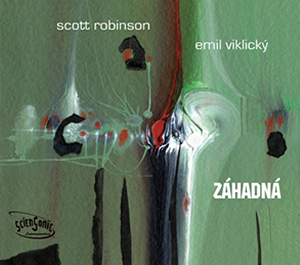 ---
Sameness is the Enemy
You know the feeling: you're just arriving in a part of the U.S. you've never visited before, and you're looking forward to seeing what it has to offer. The moment your plane touches down, the cabin suddenly fills with Muzak that you must endure until you can make it to the exit. In the airport terminal, the insipid music (or another version of it) is again your unwanted companion, following you everywhere, even into the bathroom. You wend your way past the same Chili's Express, Cinnabon and Miller Brewhouse you saw in the airport you departed from 2000 miles ago, and pick up your car keys at the rental desk. Out in the lot, the music continues to follow you as you make your way to your car, through speakers mounted every five feet in the canopy overhead.
You hit the road, looking forward to the local scenery on the way to your hotel.  You're on a highway, and it looks disturbingly like a lot of other highways in a lot of other places you've been, nowhere near this one.  You pass shopping centers, strip malls, and large swaths of housing developments just like the ones back home. These bear evocative names that recall whatever was destroyed in order to put them there: Fox Run Woods, Turkey Glen Estates. Nervously you turn on the radio, thinking, "maybe I'll catch some local music." But up and down the dial is a seemingly endless supply of the same pitch-corrected pop/rock you were subjected to back at the airport, along with a hefty dose of right-wing talk and a smattering of news.
Near a big intersection you find your hotel, one of a giant chain (aren't they all nowadays?).  Your spirits fall as you look around and realize that this highway interchange is indistinguishable from all the others you've seen all across this continent. There is Wal-Mart, Wendy's,  Home Depot... you are in the center of a giant ocean of unrecognizable conformity. Where Indians once hunted Bison is now no different than where steamy Floridian jungle once stood. Those disparate worlds have been removed, and replaced with... this.
You step into the hotel lobby (yes, the pop music is playing there, too), and make your way to the check-in desk. On the way, you pass by the hotel bar -- hey, maybe you'll drop in later for a good local beer! Quickly you scan the tap handles: Bud, Bud Light, Coors, Coors Light, Miller, Miller Light... no luck there.  As the perky young gal at the desk hands you your key, you ask, "where can I get some good local chow?" "Well, there's a Denny's next door," she answers cheerfully, "and an Applebee's just across the highway. I like Applebee's, cause you know what you're gonna get -- it's always the same!"
Sound familiar? This scourge of sameness has somehow permeated nearly every part of our landscape and every aspect of our culture. And it isn't just here in the U.S. Thanks to globalization, multinational corporate behemoths now bring us Kraft cheese in France, Coca-Cola in Chad, McDonald's in Moscow and Starbucks in Beijing's Forbidden City. Where America's jazz once fired the imagination of the world, now her bland, synthesized, auto-tuned pop has stultified the cultures of other nations, driving out their indigenous music like an invasive species. In cafes from Kowloon to Cameroon, I've had the decidedly unsettling experience of hearing exactly the same American pop that I'd be subjected to in my local New Jersey corner bar. The music itself isn't the problem . What's disturbing is the tyranny of it, the ubiquity. We are not allowed to escape it -- it is required listening wherever we go.
Even the world of jazz, supposed bastion of unfettered imagination, is susceptible to the allure of sameness (theme-solos-theme formats, formulaic endings, the dreaded "everybody wear all black"). And thanks to deregulation and corporate greed, jazz has virtually disappeared from radio along with classical music, local programming or indeed almost anything that isn't pop or talk. Radio stations once employed live orchestras; now many of them don't even have local DJs, as programming is pre-recorded from a prescribed playlist and piped in from corporate headquarters. This trend began in the nineties with test marketing, where pre-screened test groups of 100 people give a tune thumbs up or down based on just 10 seconds of music. Thumbs down, and your music doesn't get played. Playlists shrink, songwriters start "writing to the test", and sameness wins the day. Today, any sort of DJ autonomy has vanished from most radio, as corporations tightly control what gets played. There's big money in sameness!
What about the internet, and the "cloud," where listeners can access whatever music they want? Doesn't this mean greater diversity, more choice, than ever? Perhaps... but there are ominous trends here as well. I recently attended a party at a neighbor's home, and was pleased to hear Louis Armstrong playing as I walked in. Pretty hip party music choice, I thought! But when I commented on it to our hostess, I was told that it was simply a music streaming service, and she actually had no idea what was playing. Suddenly it didn't seem such a hip choice anymore. In fact, no choice was actually made.
With these streaming services, listeners can access an entire library of music... but only whatever music the company chooses to provide. And choices are often made not by the listener, but by an "acoustic personalization" algorithm which makes selections based on the acoustical profile of whatever was listened to last -- a virtual recipe for sameness! How would someone listening to Coltrane discover, say,  Art Tatum by such a method,  let alone Bartok's string quartets? The joy of discovering new sounds will be forever lost if we start allowing our listening choices to be made by a computer program whose sole criterion is that the next piece must sound the same, or nearly the same, as the last.
The forces of sameness push on into every area of our lives. The effects can clearly be seen in education, with the relentless trend toward ever more standardization, and away from any sort of personal approach to teaching. Perhaps sameness will even take over Halloween, that most imaginative of holidays: last year my wife was thoroughly disgusted at the kids who rang our doorbell with no costumes whatsoever, just standing there talking on their cell phones.
Why does uniformity have such a hold over us? Why do humans, those most creative of animals (and in America, that most creative of nations), seem so eager to prostrate themselves before the altar of sameness? I have a theory: perhaps, like brute physical strength, creativity is becoming less critical for day-to-day survival. Where early humans had to use brawn and brains to find a way to stay alive, now most (in the developed world, at least) can simply pick up a pizza or buy groceries. Could we be in danger of losing our creative edge?
There are certain species of birds which have, through the centuries, lost the ability to fly. Consider the ostrich: does not such a flightless bird seem somehow less a bird, absent such a distinguishing characteristic? And would not a diminishment of our own creative powers make us, in some  immeasurable but crucial way, less human?
If there is an answer to this dilemma, I believe it will come from the arts. Perhaps it cannot be stated more simply or more passionately than the way composer/saxophonist Anthony Braxton put it to me years ago: "We have to keep playing music like our life depends on it -- which it does!" He was speaking, of course, of creative, far-reaching music, music which elevates the imagination and transforms the listener. Musicians like myself are often told that we must "give the audience what it wants"... but an audience can only want what it already knows. I believe that part of an artist's job is to find that which the audience never knew it wanted, that which it was not even equipped to imagine. This way, the music is allowed to evolve and grow, and perhaps take us humans along with it. Indeed, creativity -- and creative music in particular -- may be the most powerful weapon we have against the creeping tide of sameness and uniformity. Let us wield it often, and well.
Copyright 2010 Scott Robinson
---
Welcome to Spacebook, brought to you by ScienSonic Laboratories! As a home for creative thought and "Worlds of Tomorrow Through Sound," ScienSonic Laboratories has an interest in fostering dialogue and encouraging debate on topics related to creativity and the artistic, adventurous mind. Spacebook is designed to provide an interesting and engaging forum for such dialogue, and it is open to all -- not only our valued family of ScienSonic members. All thoughtful and civil responses, from any quarter, are invited and encouraged. Let us hear your thoughts! Of course, we hope you will also visit ScienSonic Laboratories at www.sciensonic.net, and check out our many creative projects including our adventurous CD offerings, our Sound-of-the-Month Club, and more. Please consider becoming a member. Creative minds wanted!
---