My essay about Richard Powers
What follows is an essay I wrote for Richard Powers & The Modern Fantastic, a beautiful booklet published for the World Fantasy Convention held last November in Saratoga Springs, NY. I had been asked to be on a panel about Powers (our ScienSonic cover artist) at that event, and sadly had to decline because of a European tour. Instead I was represented at the convention by a video interview prepared by Rick Lieder, by 21 paintings contributed from my collection to their special Powers exhibit... and by this essay (presented here in its original, unedited form).
Incidentally I was very sad to learn this week of the death of David Hartwell, who was present at the convention and is referenced in this article.
Posted: January 26, 2016
---
Unearthly Visions
I shuffled my feet uncertainly, glanced down at the single bill clenched in my hand. A whole dollar! A lot of money for a 10-year-old kid in 1969. I looked again at the cardboard carton lying open in the sunlit New Hampshire field. Must be 20 books in there, maybe more… all early- to mid-1950s paperbacks (already old, even then). Everything about them: the look, the feel – even the smell! – held me fascinated. I felt pulled, drawn in, as if caught in a tractor beam. Well, my grandfather had given me this money when we'd first arrived at the flea market; said it was for me to spend on whatever I wanted. I wanted these books!
Hesitation… then my hand thrust out, the deal was done, and I carted away my prize.
That box proved a trove of mind-opening wonders, and it changed my life in a profound way. For the rest of that summer I would sit outdoors any chance I had, enthralled, turning the brittle pages, drinking in the feelings of awe and mystery they contained. And those covers! They were otherworldly visions, little windows into unimagined realities that it seemed I could taste, feel and hear as much as see. They called out to me… and in I went.
That young experience was my first exposure to the art of Richard Powers, and it colored everything that came later in life. Doors got opened that never quite closed again. And years later, as I was drawn further and further into the world of music, I found that this early experience had somehow left me better prepared to accept the sound of the unexpected, the unfamiliar... the unforeheard. Creative music became my passion, and Powers proved as much an influence in that realm as Louis Armstrong, Duke Ellington, Sun Ra or any of my musical heroes. Like them, he created a world -- inhabited it -- and then invited others to come in and make themselves comfortable.
In the late 1990s, after I had been active as a musician in New York for about 13 years, my future wife said to me, "You keep talking about this Richard Powers, and how important he is for you. Why don't we try to find out about him, see if he's around somewhere?" I had no idea how to go about that, and said so. But she had a resource I did not: a computer, and knowledge of this new thing called the Internet. A few clicks later, we had found David Hartwell's online remembrance of Powers, and our unfortunate answer: The man had recently passed. But Powers' son Tair lived nearby, Hartwell told us, and would probably be happy to speak with me.
Tair turned out to be a great guy, very friendly and extremely enthusiastic about his father's work. We met at a diner, and he brought along a big portfolio of articles, reviews, cover proofs, transparencies, tearsheets, snapshots… an eye-popping abundance of treasures. That began a friendship which lasted until Tair's death about eight years later. We hung out, came to each other's barbecues, and talked endlessly about his dad. I was able to obtain my first original paintings from him, and he came to a number of my New York-area concerts. One of my most treasured compliments came from Tair: "You know, Dad would've loved your music!"
Eventually, after years of sideman work and some 200 albums of mostly straight-ahead jazz, I needed a new outlet for the more far-reaching music that I dreamed of making, but had little chance of getting released elsewhere. I wanted complete artistic control over every aspect of the music, as well as the look and feel of the packaging and the website. I wanted to create a world… and the art of Richard Powers needed to be a big part of that world. So in 2010, ScienSonic Laboratories was born, and I was honored and proud when the new enterprise was granted an exclusive license from the Estate of Richard Powers for the use of Powers art on all our musical projects.
With the newly-formed company, and a beautiful new recording facility (laboratory!) at my disposal, I could finally create the music I dreamed of, and unite it with some of the incredible paintings which had helped inspire it in the first place. Not only that, but some great unpublished paintings -- from my collection and elsewhere -- could now be seen by the world for the very first time, as eye-catching album covers.
One of my regrets is that Tair Powers did not live to see the results. As of this writing, ScienSonic has released eight CDs of highly adventurous music, all with astonishing Powers covers (a couple of these can be seen below -- along with a photo of Powers at work on the actual painting used for Záhadná!), and many more are already in the pipeline. The distinctive look of ScienSonic – including all areas of the website – has been based entirely on Powers' work. Even the clickable icons that navigate to the various webpages are discrete, abstract "objects" taken from Powers paintings. When making a purchase, the customer adds an item, not to a shopping cart, but to a "transporter" – represented by another Powers element.
Our efforts have not gone unnoticed. We've gotten some great reviews, made it into some "Best-of-Year" lists. Several of our releases have won "Best Album Artwork" nods from NYC Jazz Record, and we've been written up in Sci Fi Magazine. We have partnered with the Space Foundation, which bestows on our CDs their "Certified Space Imagination Product" seal (we donate a portion of our proceeds to the Space Foundation fund). We've launched our Laboratory Membership program, and our Sound-of-the-Month Club, which enable our adventurous listeners to really become a part of the ScienSonic world instead of just buying a CD.
But the most important thing is the music itself, our Worlds of Tomorrow Through Sound...  music which would never have existed if that 10-year-old kid hadn't made his impulsive purchase, and lugged that heavy carton of old books back through a New Hampshire flea market to his grandfather's car.
Best buck I ever spent!
© 2015 Scott Robinson
Investigative Head of Sonic Research, ScienSonic Laboratories
Photo of Richard Powers © Rick Lieder • Dreampool.com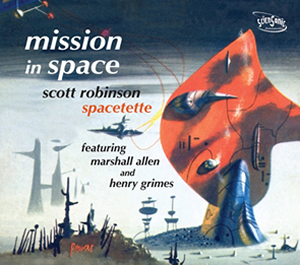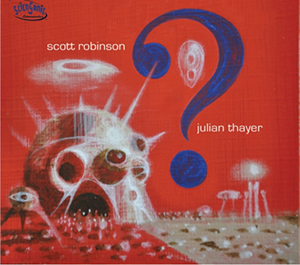 ?