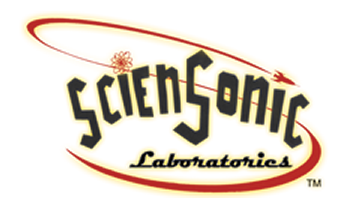 ScienSonic Laboratories, LLC wants to become YOUR source for creative and far-reaching musical experiences. Not just a record label, not just a recording facility, ScienSonic Laboratories is a unique and valuable resource for YOU, the adventurous listener. We seek to create a world of musical art and science that you can enter, experience and enjoy. Through our CD and vinyl LP releases, our laboratory memberships program, and our other distinctive offerings, we wish to welcome the creative and thoughtful listener to our "Worlds of Tomorrow Through Sound."
In our recordings you will discover sound-worlds not to be heard anywhere else: a trio of bass saxophones... vintage electronics played through rotating speakers... bass marimba duets... a miniature symphony for contrabass sax and 7-ft. banjo... a solo multi-instrumental performance based on doctoral work in chaos theory... the giant bells of Space Farms... all beautifully packaged with astonishing vintage cover art by the amazing science fiction artist Richard Powers (used by exclusive agreement with the estate). Musicians who have recorded for ScienSonic include some of the most original and distinctive voices in creative music today: Marshall Allen, Kevin Norton, Vinny Golia, Henry Grimes, Julian Thayer, JD Parran, Pat O'Leary, Warren Smith, Frank Kimbrough, Emil Viklicky and Scott Robinson.
ScienSonic Laboratories strives for excellence in every area of its operations. All music is recorded under union contract with the American Federation of Musicians. Our CDs are manufactured in the US, and come in handsome board packaging (no plastic cases), protected by reusable, resealable "poly bags" rather than wasteful shrink wrap. And in keeping with our expansive mission, a percentage of each album sold will be donated to the Space Foundation fund for the advancement of space exploration. In fact, our recordings have won official recognition from the Space Foundation as Certified Space Imagination Products!
Our offerings are not limited to musical releases. In addition to these and other products, our exciting Laboratory Memberships are available at a variety of levels which allow you access to additional creative experiences in our cyber-labrooms including video, interviews, "sounds-of-the-month," behind-the-scene doings, exclusive products and publications, and unreleased audio not available elsewhere. ScienSonic Laboratories brings the creative experience to YOU, the adventurous listener!

The core ScienSonic staff includes:
Scott Robinson, Investigative Head of Sonic Research
Dr. Sharon Robinson, Special Adviser in Computational Sciences and Informatics
Dr. Julian Thayer, Distinguished Specialist in Applied Psychosonics
Maria Traversa, Communications Officer
Jeff Dunn, Data Systems Effectuator
---